Let's go to Shirasaki in Wakayama in this summer!
White limestone and blue ocean feels just like a Mediterranean resort!
Shirasaki coast is selected to be one of the "hundred beautiful scenes of Heisei era" and "hundred beautiful scenes of beach in Japan"We will stay a log house!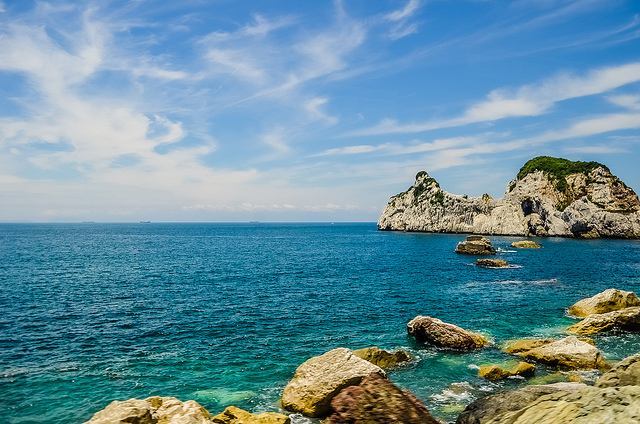 At night, we will have a campfire and BBQ party!!!
Of course, all you can drink!!
Enjoy beginners' diving, snorkeling, Sea Kayaking, fishing boat cruise,
Sake Brewery Factory tour, and pizza making!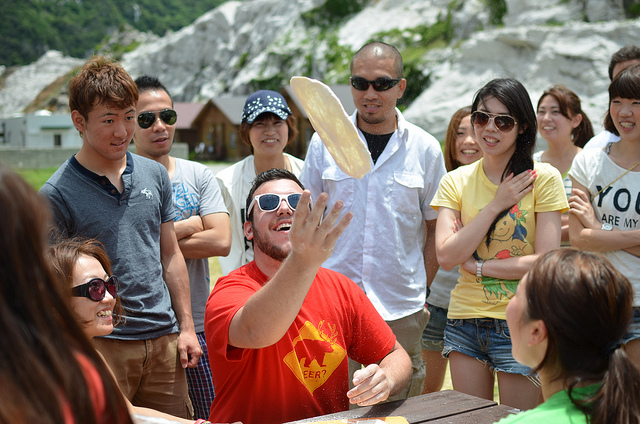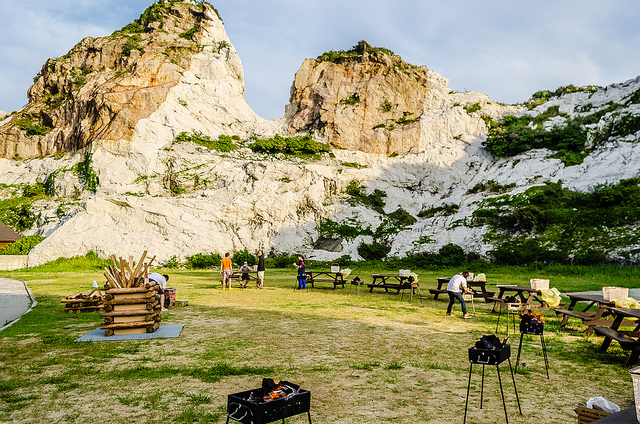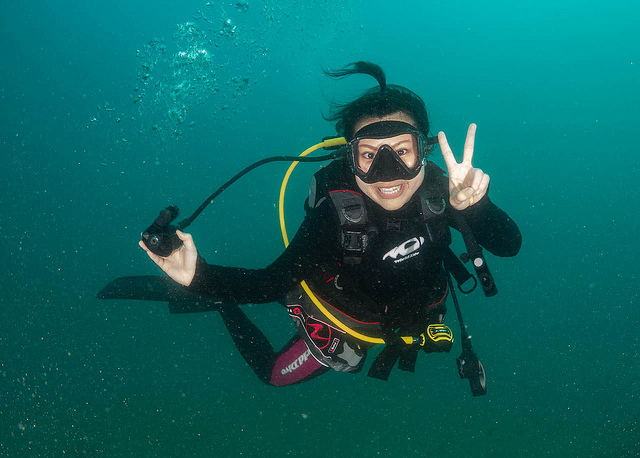 It's a great chance to make new friends in Japan!
Limited to 40 people, so sign-up NOW!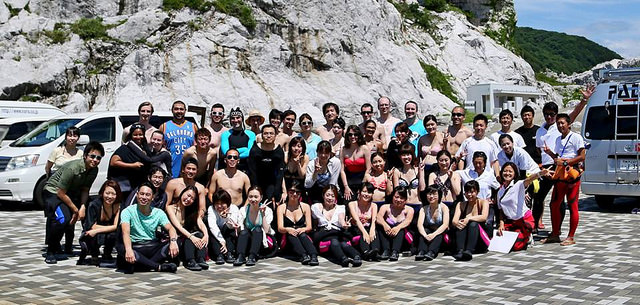 DETAILS
Meeting Time
Sep. 9th, 2017 (sat) 8:45am
Returning Time
Sep. 10th, 2017 (sun) 5:45pm
Meeting Place
Namba (in front of Kintetsu Namba building. Map is below)
Destination
Yura-cho in Wakayama prefecture
Accommodation
Log House/Container in Shirasaki Marine Park
Fee
A course (Diving & Snorkel) 35 people
29,800yen?(WhyNot!? Members)?/ 30,800yen?(others)
B course (Sea Kayak) 10 people
28,800yen?(WhyNot!? Members)?/ 29,800yen?(others)
C course (Snorkel)?
28,800yen?(WhyNot!? Members)?/ 29,800yen?(others)
※1,000yen OFF for people who wants to sleep in the tent.?
(WhyNot!? Member registration(FREE): Just send a blank e-mail to en@whynotjapan.com)IncludesRound-trip bus, Accommodation, 4 meals (1 breakfast, 2 lunch, 1 BBQ dinner), Diving/Snorkel/Sea Kayak, Rental wetsuit, Insurance, Fishin boat cruise, and Party with all you can drink.?
*Insurance is not covered while diving, snorkeling or sea kayaking.Not IncludesOptional Insurance for diving, snorkeling and sea kayaking for people who want to get. (Additional 500yen)Items you should bring2 bath towels, bathing suit ,sunscreen, rain apparel, toothbrush, shampoo and rinseCapacity40 peopleMinimum passenger count30 peopleReservationReservation FormPayment Methods1. Bank Transfer (within 5 days)
2. Paying in cash at any WhyNot!? Party (within 2 weeks)NoteRoom arrangement is single-gender shared room.Cancellation Fee20-8 days before departure – 20%
7~2 days before departure – 30%
1 day before departure – 40%
On the day of departure – 50%
After departure / without notice – 100%Planning CompanyWhyNotJAPAN Inc.Operating Company近畿日本ツーリスト株式会社
観光庁長官登録 旅行業第1944号
SCHEDULE
| | | | |
| --- | --- | --- | --- |
| 8:45 | Meet in Namba | 8:00 | Wake up |
| 9:00 | Bus Leave | 8:30 | Breakfast |
| |                     (Bus) | 9:30 | Enjoy Fish Boat Cruising! |
| 11:30 | Arrive at "Shirasaki Ocean Park" in Wakayama | 10:30 | Let's make a pizza for lunch! |
| 12:45 | Orientation & Lunch Time | 13:45 | Enjoy shopping at Yuasa Soy Sauce |
| 13:00 | Try Diving & Snorkeling! | 14:45 | Sake Brewery |
| 17:00 | Finish Diving & Snorkeling | 15:10 | Leave Wakayama and go back to Osaka |
| 17:30 | Shower Time | |                      (Bus) |
| 18:30 | BBQ & Party Time with a campfire!! | 17:45 | Arrive at Namba |
| 23:00 | Bed Time | | |